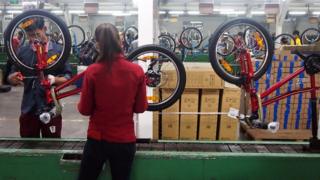 Made in Cambodia is a common label on clothing from shirts and skirts to cycling shorts, but these days there's a good chance the bicycle itself will also have been made there.
The south east Asian nation is making the most of shifting global trade patterns to diversify its economy, and it is now listed as the fifth-largest exporter of bicycles in the world after China, Taiwan, the Netherlands and Germany.
But concerns over democratic freedoms mean there could be bumps in the road ahead.
At the Bavet Special Economic Zone, right on Cambodia's border with Vietnam, and just 50km north west of Ho Chi Minh City, the industry is gearing up to make the most of growing demand.
Inside a factory belonging to Taiwanese-owned firm Speedtech, bicycle frames
…
Read More