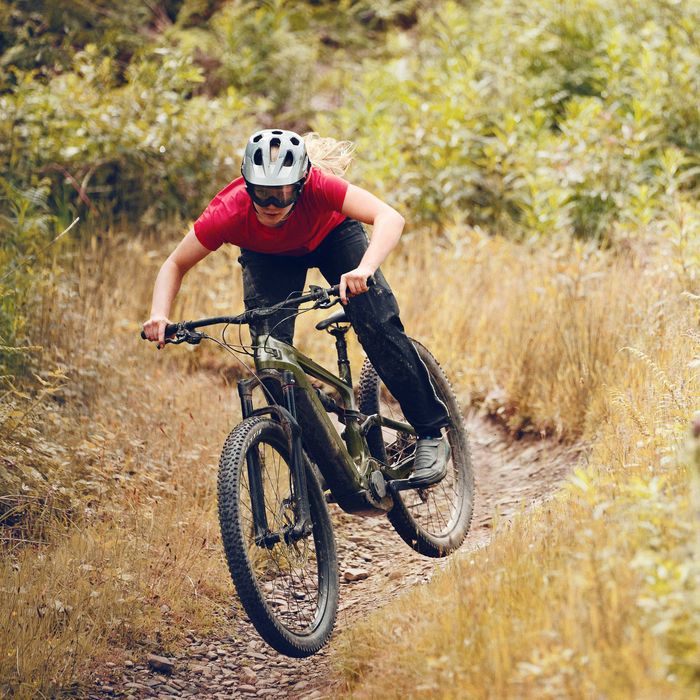 Pro rider Ella Conolly on the Cannondale Habit Neo.
Photo: courtesy of Cannondale
Whether you're ready to ditch mass transit this fall, need to haul your kids or groceries without a car, or just want to take it easy the next time you're riding uphill, an electric bicycle could be the perfect solution. Although you still pedal an e-bike, it has a motor for help when you need it — like your very own extra set of superstrong, never-tired legs to pedal right along with you.
With all the added technology, it's no surprise that e-bikes are more expensive than traditional bikes and that buying one involves considering a few more factors, including motor wattage, battery voltage, and top speed. You also need to choose one of three classes of e-bike: Class 1 boosts you to a maximum of 20 miles per hour as you pedal, and Class 3 gets you to 28 miles per hour. Class 2 is a little different: It peaks at 20 miles per hour as you pedal, but it also has a throttle-only mode, in which the bike takes over and pedals for you.
Beginners should make sure to get a bike with a few key features:
1. Look for bikes with different levels of pedal assistance so you can choose when you want to cruise on eco mode or call in the reserve power to muster you up a hill.
2. If you plan to use the bike for commuting, pick one with built-in lights (which run off the same battery as the bike itself) so you're visible to vehicular traffic.
3. Integrated racks and bottle holders make it easier to haul everything from your work bag to your water.
4. Many e-bike systems have a small dashboard on the handlebars that shows the level of charge remaining in the battery, your speed, and the miles you've ridden, and many allow you to make adjustments through a companion app. You want one of those bikes.
Even if you get all these features, it won't mean anything if you don't nail the bike's fit to your body. That's done most easily by visiting a bike shop, but if you're not comfortable with that during the pandemic, most shops are happy to work with you over the phone. And of course, don't forget to buy a helmet and the right accessories and learn how to fix a few common bike problems.
To make the buying process easier, we asked four e-bike riders and experts to recommend the best electric-bicycle options for a wide range of riding styles, from nimble commuter bikes to burly mountain bikes. They all agreed that Class 1 is the safest option for new riders; these bikes also generally cost less and have the fewest regulations. Here are the experts' picks for every type of rider.
It's never a bad idea to take bicycling cues from the Netherlands, where the citizens ride more than in just about any other European country. "Gazelle is a Dutch brand, so, generally speaking, the bikes tend to be somewhat upright and more practical than most average American bikes," says Chris Nolte, owner of Propel Bikes. Don't let the entry-level price fool you. The nine-speed Medeo T9 Classic is a very capable commuter that can cover up to 55 miles of assisted riding on one charge. "I think these bikes fit the commuter category well, and they have been really popular for those looking to give up the subway in NYC," Nolte says.
The frame's low bar allows riders to easily step off and steady themselves, making this a great bike for beginners and shorter riders, and the nearly one-inch-wide, puncture-resistant tires provide stability on all sorts of surfaces. Plus, says David Drumm, the technical-operations manager for VBT Bicycling Vacations, this bike comes with important safety features, like front and rear lights, and a full fender set to keep you dry on wet roads. You'll hit speeds up to 20 miles per hour over nine gears, while the suspension in the seat post helps smooth out bumps in the road.
If you ride road bikes, the heft (both visual and physical) that comes with an e-bike's battery and motor can be a challenge to accept. That's why Yannick Pichler of Butterfield & Robinson, a travel agency specializing in luxury bike trips, recommends the Moustache Dimanche 28.5. "The geometry of the bike is performance oriented, and integrating the battery pack into the frame allows for a sleek, low-profile design," he says. The 11-speed has a powerful 500-watt motor and can reach about 25 miles per hour.
Legendary mountain biker Mark Weir rides the Class 1 Cannondale Habit Neo 2. "This bike will do cross-country touring and devour any hills, up or down, that you'll face," he says. "This is the bike you use to go deep in the mountains, and you can't have a failure, and the crank engages with the slightest movement so even when you can't get a full pedal stroke — say, over a big rock — the motor engages." The 12-speed, full-suspension Habit Neo 2 has monster breaks for confidence-boosting stopping power on 29-inch tires.
Like many Class 3 bikes, this 10-speed version reaches 28 miles per hour, blurring the line between an e-bike and a moped. The front suspension fork helps to ease your ride on rougher surfaces, while the rear rack is a nice lashing point for your bags. "If you're looking for a fast and sporty commuter, look no further," Nolte says.
Drumm says this 11-speed bike is "light, comfortable, and has the ability to ride gravel, pavement, and anything in between." And its range of up to 120 miles between charges makes it "the ultimate touring e-bike." The SL Comp Carbon EVO shares the same Specialized-designed integrated battery, motor, and frame as the brand's speedy, road-focused Turbo Creo bike but with a wider tire clearance that makes switching to chunkier, gnarly off-road tires easy. The whisper-quiet motor packs up to 240 watts of power, which can help you reach about 28 miles per hour. And when you want to go solo, the system offers no resistance to your pedal strokes, so it feels like a regular bike. (Lesser e-bikes can feel slow when the assistance is off.) Fender and rack mounts let you outfit the ride with gear for extended bikepacking trips.
"This is the cargo bike of choice for young families," Nolte says. "Powered by a Bosch motor and the very smooth gearing, the bike is great for bigger families that don't want to break the bank." The child's lower seating position gives the bike a lower center of gravity, which improves stability. And as it hauls up to 600 pounds, depending on the model, you could put kids in the front and on an optional rear rack, giving each their own three-point harness. With a 50-mile range and 20 mph top speed, it's plenty to get you to the park or the grocery store.
"These have become more popular recently as people are stuck at home and want to take their kids out with them," Nolte says of the Tern HSD P9, which comes ready to accept kid seats from Thule or Bobike without adapters and can hold a combined 375 pounds of rider, kid, and cargo. This nine-speed bike is compact: It weighs less than 60 pounds and, when the handlebars fold down, is just 34 inches tall. It can fit a wide range of riders, from four-foot-11 to six-foot-five in a comfortable upright position, and its battery provides about 70 miles of range with a max speed of 20 mph. "The HSD can carry your kid from one year old until they are ready to bike on their own," Nolte says. "The bike can easily adapt and change as your family does."
Nolte describes this 11-speed Class 3 bike as "the cargo bike Batman would ride." It's his favorite "because it's fast and fun, but it can still haul everything from a week's worth of groceries to a friend." Deceptively agile, the Load 60 has a front and rear suspension that keeps you in constant contact with the road and helps to smooth out the ride. Various accessories are available for the storage area, ranging from a set of two five-point harnesses for kids to high side walls that'll help you carry up to 200 pounds of groceries, gear, or nearly anything else. One caveat: It's over eight feet long, so you'll need to be ready to face some storage and transportation headaches.
Please note that this bike is shown with optional equipment.
"This looks great, and it was designed by McLaren's former Formula One car designer," Nolte says. The three-speed, 40-pound GX has features like a rear suspension and a concealed chain to keep your pants clean, and it folds down to the size of a small suitcase. You'll want to get the custom bag that straps securely onto the front of the bike then pops off easily to haul your lunch, laptop, or gym clothes into the office.
The Strategist is designed to surface the most useful, expert recommendations for things to buy across the vast e-commerce landscape. Some of our latest conquests include the best acne treatments, rolling luggage, pillows for side sleepers, natural anxiety remedies, and bath towels. We update links when possible, but note that deals can expire and all prices are subject to change.