Here's another eye-opener for desert-running fans who know that high-range gearing is usually the transfer-case choice in sand: Gladiator Mojave is equipped with a 4-hi rear-differential locker, something not found even on the 2020 Gladiator Rubicon, which must be in 4-lo to lock up the diffs.
All of these standard features make Gladiator Mojave the Jeep brand's first "Desert Rated" vehicle. (There are more to come.)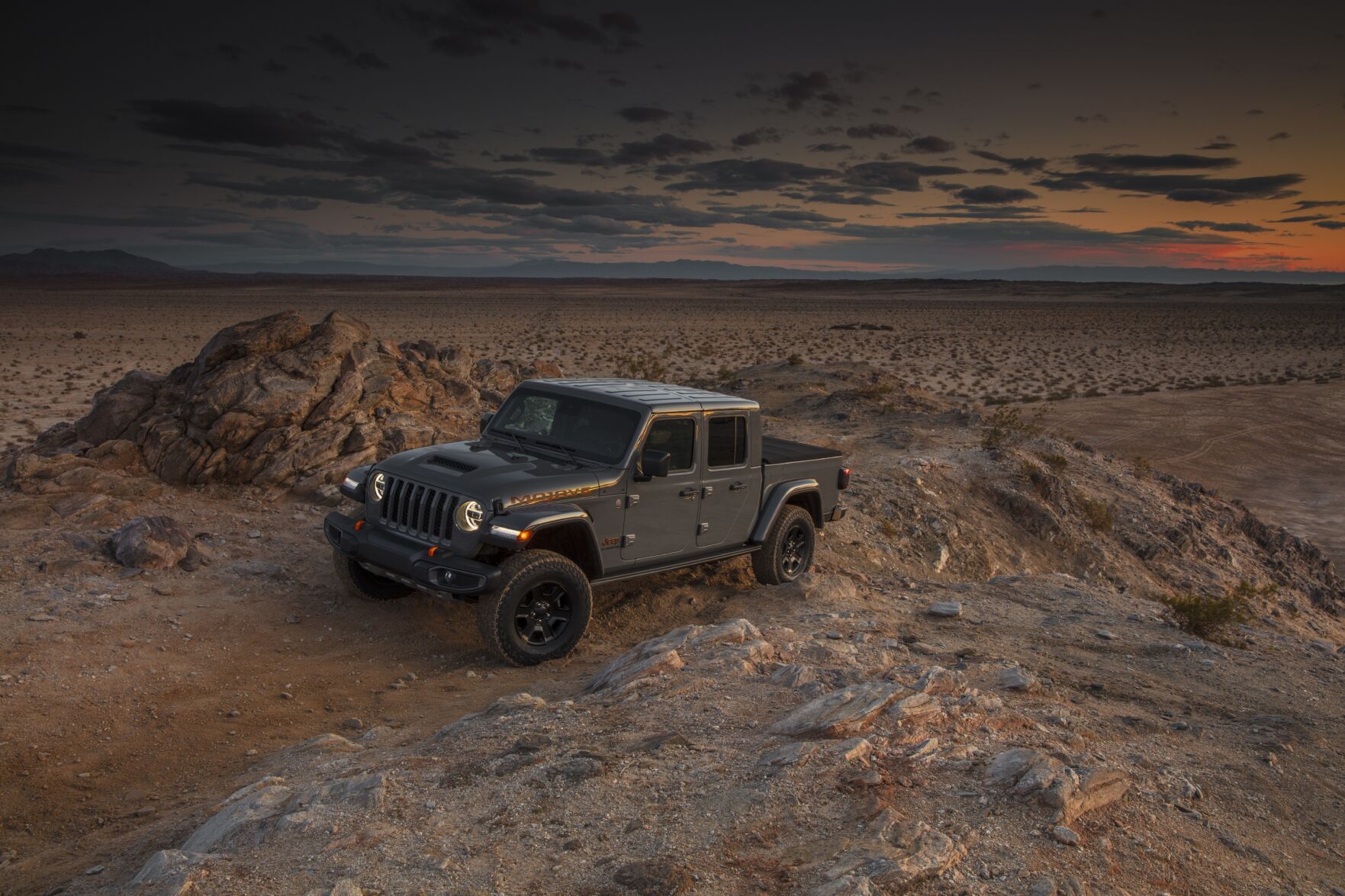 Beyond that, the 2020 Gladiator Mojave is a Gladiator Rubicon, sharing its 3.6-liter V-6 (285 hp, 260 lb.-ft. of torque), choice of six-speed manual or eight-speed automatic transmissions, push-button front-sway-bar-disconnect for added front-suspension flex, its 4:1 crawl ratio, and its under-body skid plating that's extensive enough to make an Abrams M1 battle tank envious.
As we drove an eight-speed automatic Gladiator Mojave in civilization, we were constantly reminded that there's a lot of rough-and-tumble "Jeep-iness" in this Gladiator. That, in our view, makes this truck not the first choice of someone who wants a modern pickup, but a great choice for buyers who want a Jeep in pickup form.
For example, Gladiator can wear a soft top or a three-piece removable hardtop — either way great fun, but also producing notably higher interior noise levels than you'll find in a typical modern pickup.
Gladiator also has solid axles at both ends, which enhance off-pavement capability, to be sure, but inevitably contribute to a ride that's stiff as a short 2×4.
Finally, while 21st-century half-ton pickups generally boast modern rack-and-pinion steering, Gladiator retains Wrangler's recirculating-ball setup — again, off-road tough, but vague at highway speeds, requiring constant vigilance to keep the vehicle lane-centered.