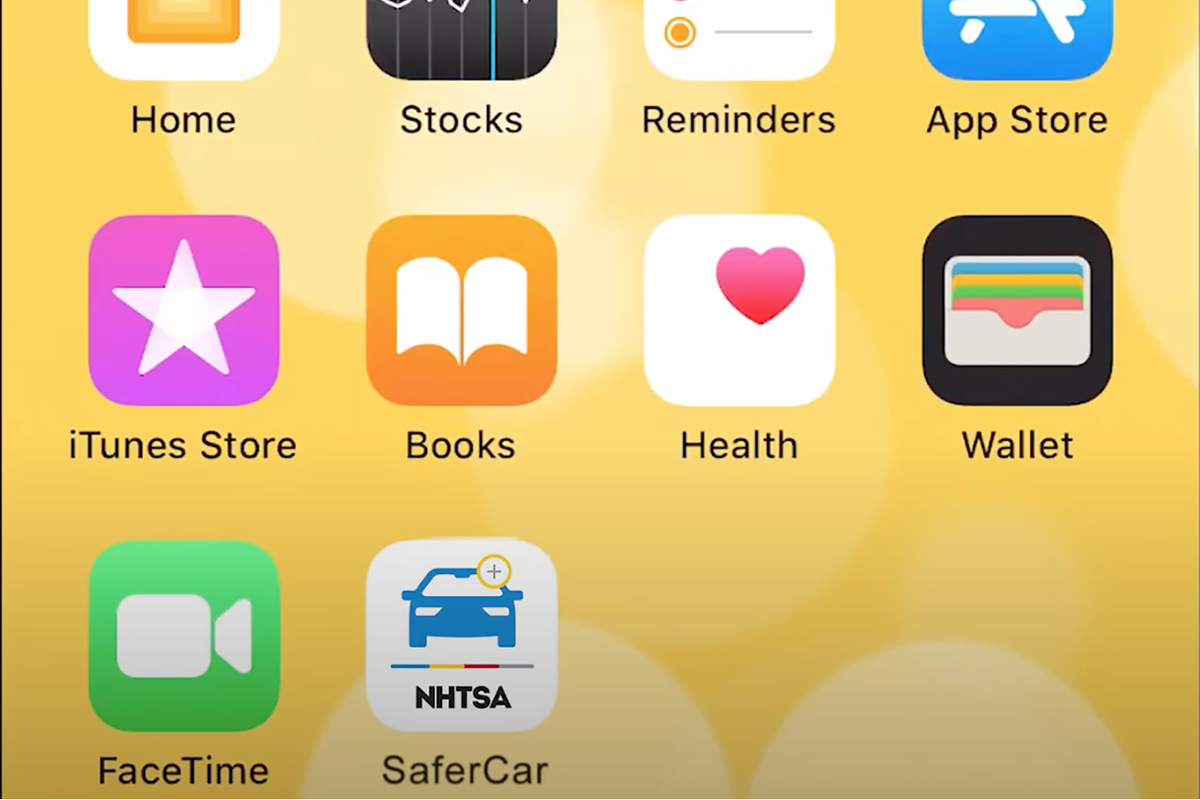 The National Highway Transportation Safety Administration has a redesigned smartphone app, SaferCar, that can notify you when your vehicle and other transportation equipment are under recall. The free app, available on Android or iOS devices (the latter beginning later today, Aug. 27), allows users to register one or more cars and any related equipment in a virtual garage, then checks those items for recalls in the background from that point forward. If your car or equipment comes under recall, the app can notify you.
Related: Side Curtain Airbags Help Save Lives, So Why Don't Jeep Wranglers Have Them?
You'll need a vehicle identification number for one or more cars, which the app lets you scan or enter. Add information on any additional equipment — such as car seats, tires or trailers — and opt in for push notifications, NHTSA instructs in a short video. Then you're all set.
Before now, searching for recalls through the agency meant entering your VIN on an online recall-search tool to see unfixed recalls at the time. You could also sign up for ongoing email alerts on future recalls, but only on a more general basis.
"Prior to this new app, and still available today, the public can sign up on the website to be notified of all recalls, or recalls for vehicles by make, model, model year, as well as tires, and child restraint systems," Lucia Sanchez, a spokesperson for the agency, told Cars.com in an email. "However, there was no way to sign up to be notified of a recall specific to your vehicle by VIN."
If it sounds like you're giving too much information, NHTSA claims it stores no data from the app. (It's also worth noting, in all likelihood, that your vehicle registration already links you to your car. That cat's out of the bag.)
"We're not trying to sell you anything, and we're not selling your information to anyone, either," the agency says on its website. "In fact, our app downloads all the relevant, recall-related info you'll need, but none of your user data is stored at NHTSA. Your personal info stays inside your device."
The app also allows users to look up five-star crash-test ratings, research car seats and report safety concerns. It's not the first time the agency has offered a SaferCar app, but the outgoing version was discontinued.
"NHTSA did have a SaferCar App before, but it had become outdated and has been pulled from both the Google and the Apple stores," Sanchez said in the email. "This app is all new, redesigned from the ground up."
More From Cars.com:
Cars.com's Editorial department is your source for automotive news and reviews. In line with Cars.com's long-standing ethics policy, editors and reviewers don't accept gifts or free trips from automakers. The Editorial department is independent of Cars.com's advertising, sales and sponsored content departments.
Share